Photography by Brittany Berggren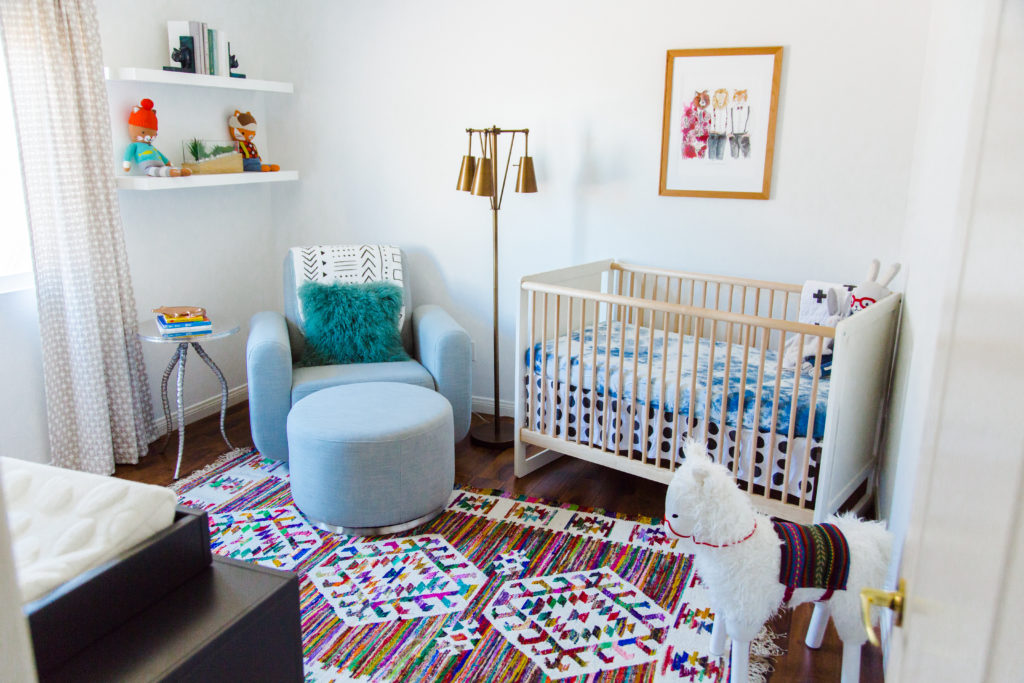 Welcome to Wyatt's "modern eclectic" nursery! I really wanted to create a room that was colorful and fun but not overly baby.  Knowing that I was going to have a lot of color in the room, I chose to go with bright white walls.  Not only do they look clean but, I will also not have to repaint the room when I transition him to a "big boy" room later on.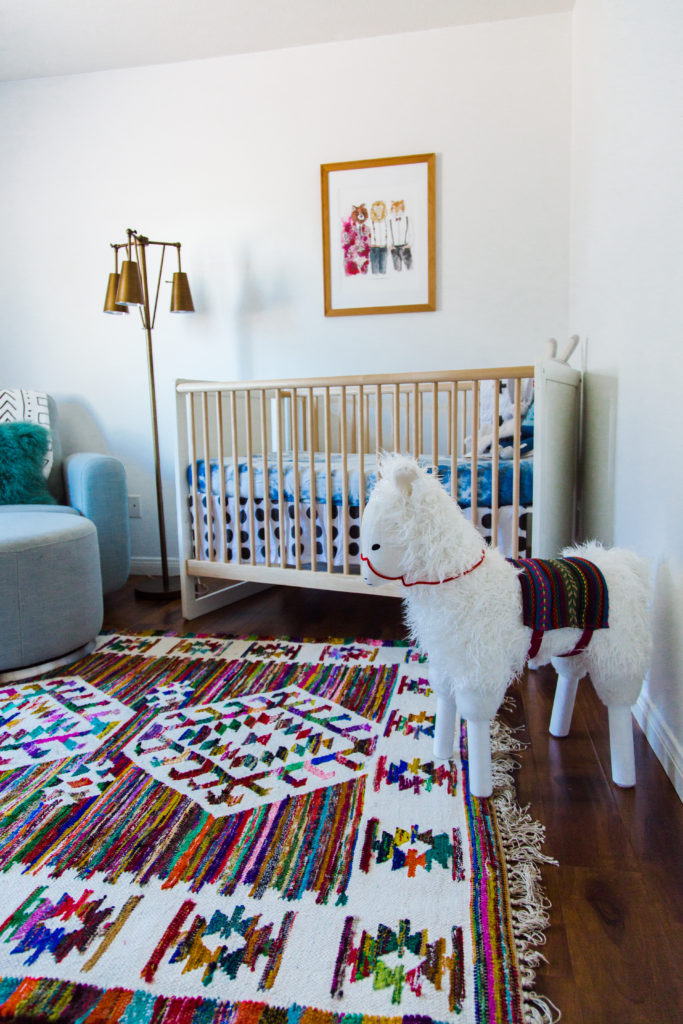 The first thing I chose when designing this room was the Casablanca Rug by Land of Nod.  I fell in love with it as soon as I saw it and began obsessively reading reviews about it to decide if it was "the one".  I think it must have been the hormones.  Many of the reviews said that the rug was way more pink than the website version showed.  I strongly disagree!  My rug looks exactly like the one I saw online and I couldn't be happier with it.
Meet Larry the Llama from Land of Nod.  I wanted a ride on toy because my older two boys loved them so much when they were little.  This guy is the best.  He is cute, matches the rug, and is very strong.  Grey often rides him and he is a big 4 year old.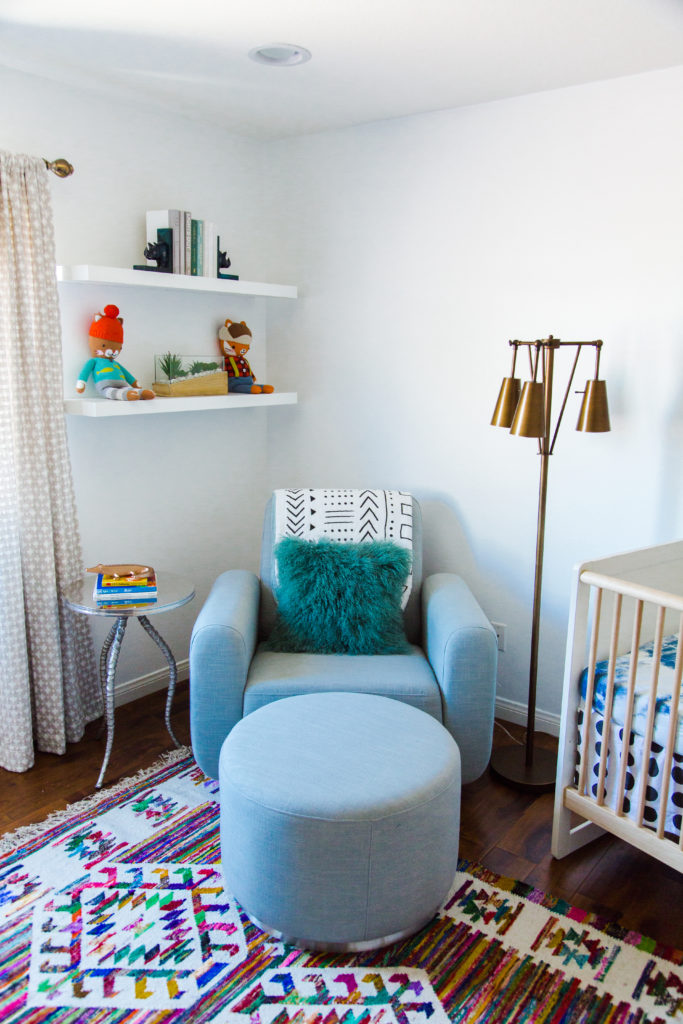 When deciding on a glider for the nursery, I knew I needed something that could fit myself and at least one other kid.  As a third time mom, I know better than to think I will ever be leisurely rocking Wyatt without another child attached to me.   I chose the Tuba Glider by Babyletto because it is extra wide and I love it's simplicity.  I almost went with the gray option but decided to go with seafoam and use it to add even more color to the room.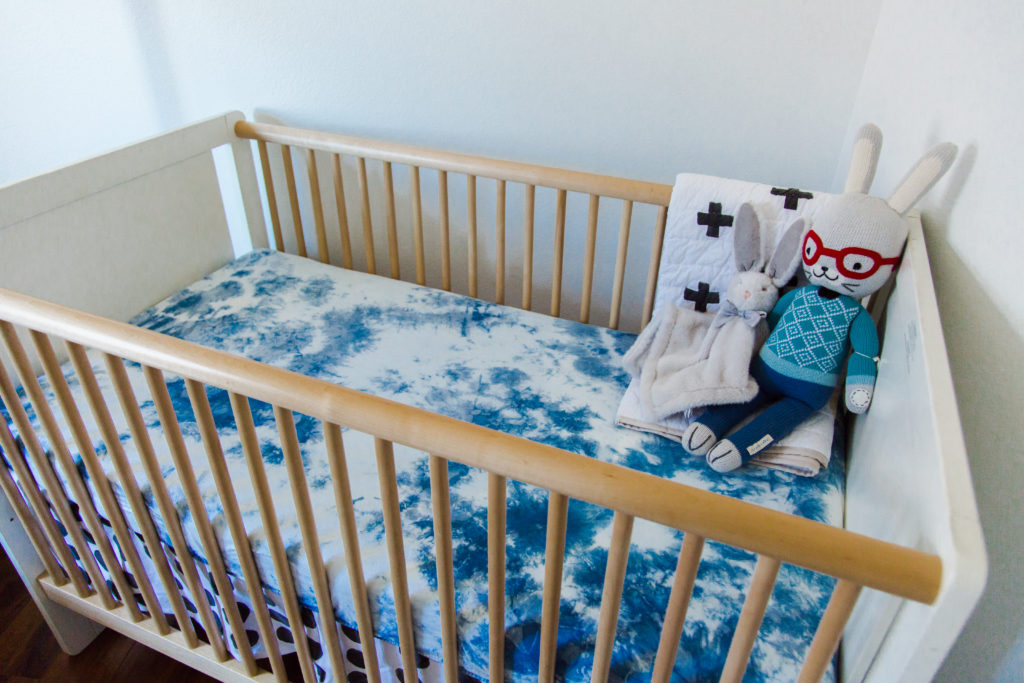 I had planned to use Grey's old crib which is still in great condition.  Then one day my mother-in-law sent me a picture of this crib by Oeuf that her neighbor was selling for $100.  Yep, $100!  It was too good of a deal to pass up and I think the light colors go great with the room.
The blanket and bed skirt are by Land of Nod.  The set also comes with a crib sheet (not pictured).
This crib sheet is by The Shibori Shoppe.  It is handmade and one of a kind…which I love.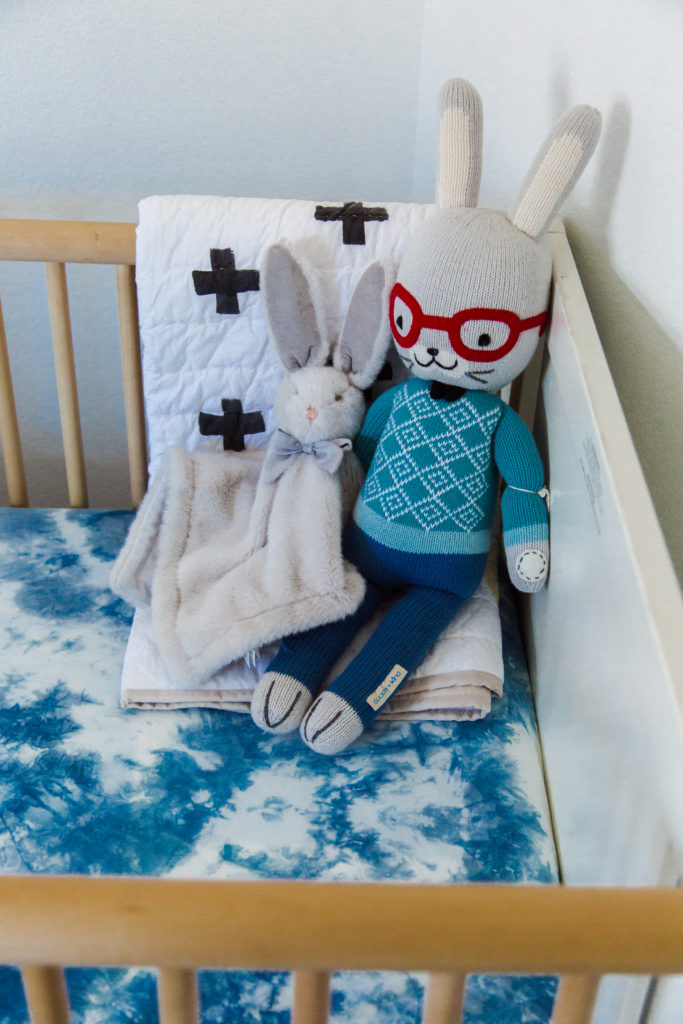 Two bunnies!  The little bunny is by Pottery Barn.  I got it in a gift bag from a Pottery Barn event I went to before I was pregnant and saved it because I knew I would want to use it if I had another baby.  Smart thinking!  The bigger bunny is by Cuddle and Kind.  If you don't know about this company, check them out.  For every doll sold, they give 10 meals to children in need.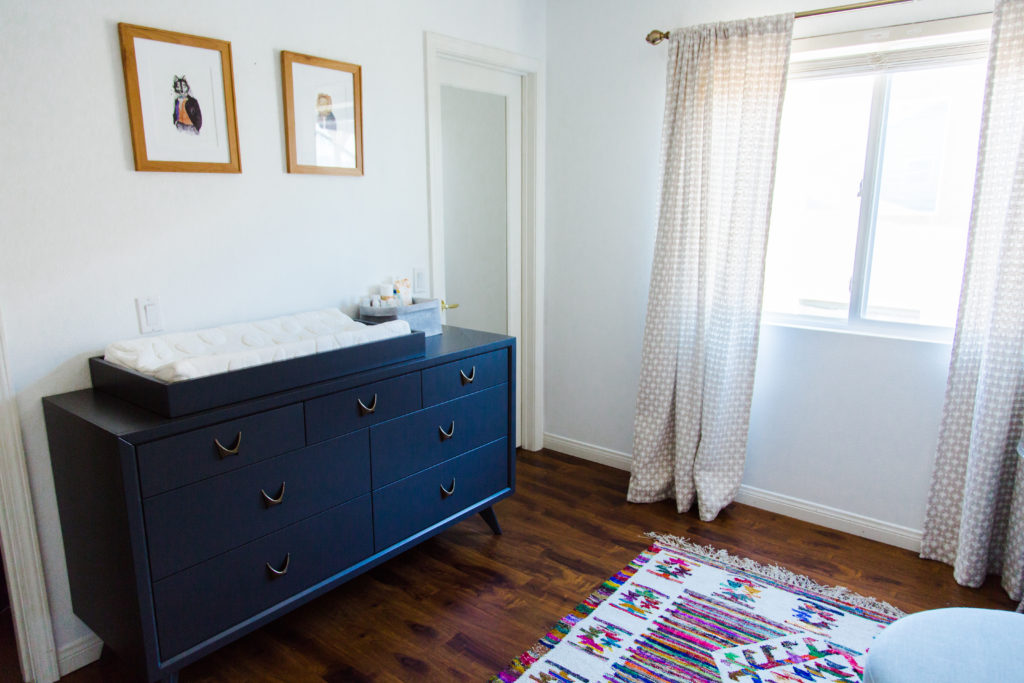 This dresser is what dreams are made of.  This is my favorite piece of furniture in the ENTIRE house! I found this while scouring the internet looking a dresser/changing table that would be the showstopper in the room.  I found it!  This is the Skylar 7 Drawer Dresser by Newport Cottages.  They have a ton of different colors to choose from.  This is slate.  It looks a litter bluer in photos than it actually is.  It's more of a dark blue grey color.  The drawers a huge and close very nicely.
I found these Nate Berkus curtains at Target!  They match the the Land of Nod bedding set perfectly.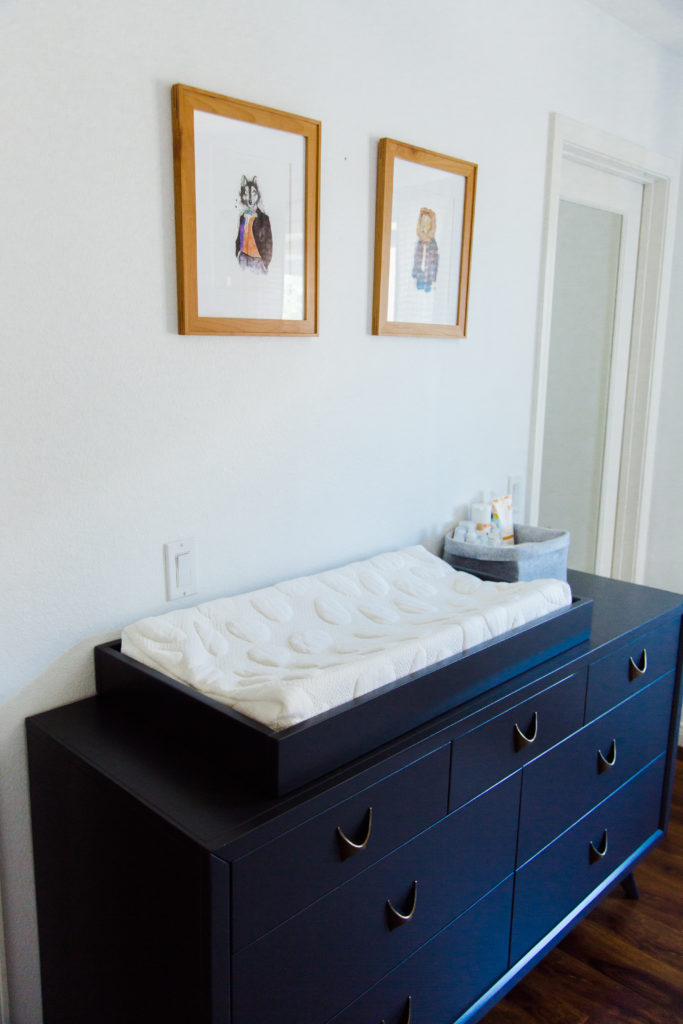 The changing table on to comes off so that you can use this as a dresser instead of changing table when the time comes.
This chaining pad is by Nook Sleep.  I also have their mattress and feeding pillow which are amazing!  The removable cover has little soft pebble things on it which is extremely comfortable for baby.  I went with white for both the mattress and changing pad.  I know there is a poop stain risk but I just love how it looks on the slate dresser.
Check out the artwork above the dresser by Lara Meinjtjes.  A friend of mine had a few of her pieces and I thought they were hilarious.  I love her use of color and think the animal heads on men's bodies is a great way to incorporate my love of men's fashion in fun way.  You can also find her on instagram @larabrite.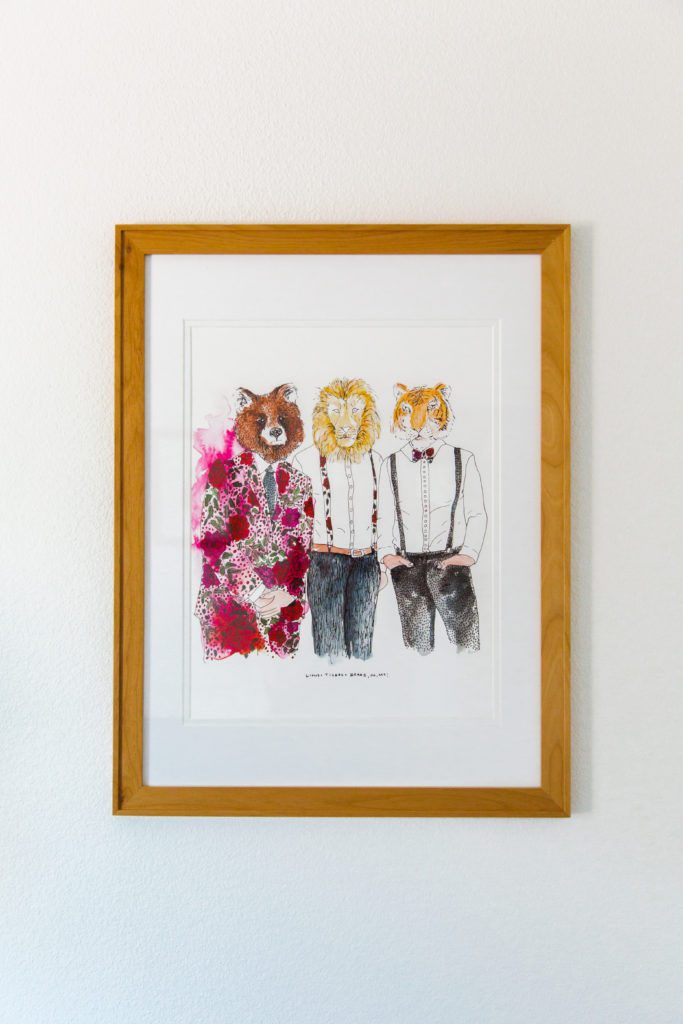 This is the larger piece by Lara Meinjtjes that hangs above the crib.  I chose this one because it reminds me of my three boys.
If you would like to see a video tour of the nursery, you can check it out here!  Make sure to subscribe to my Youtube channel to see more.